By Olivia Levez
Spring has sprung, and I've been catching up with my reading pile. So here are three Easter stunners:
Darkmere, by Helen Maslin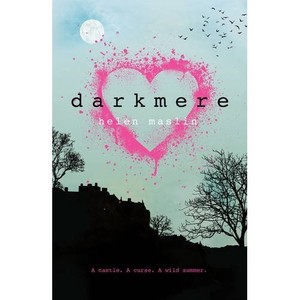 I met Helen at the UKYA Bookbinge Festival at Birmingham Waterstones, and the moment she said that her influences included Daphne du Maurier, I knew that I had to read this one.( Rebecca is the book that I would save from a burning house.) So, clutching my copy of Darkmere, I took myself off to my caravan to work on my book 2, but first treated myself to a whole afternoon's reading, when I arrived after a four hour car drive.
And I couldn't put this one down!
Told from the viewpoint of Kate – edgy outsider & secret geek – and the enigmatic Elinor, this is a cleverly plotted and pulse-racing thriller set in a Mandalay-esque castle on a cliff top.
Reminiscent of Dawson (Cruel Summer, Say My Name) with its cast of arrogant and effete teens whose comeuppance you're guiltily rooting for, I read this at a gallop (despite being alone in a storm at my caravan with only a howling dog for company).
The sky darkened. Looking up, I realised that I hadn't yet drawn the curtains, and all the windows were dark mirrors. Added to which, the dog needed to go outside for a wee. One problem: I was on P219, which is PETRIFYING!
I gallantly plunged on, and finished the book in a couple of sittings. Confident writing and deftly plotted, it's difficult to see that this is Helen's debut novel. I can't wait for her second.
Dead smugglers. Crumbling castles. And camper vans. What's not to like?
I actually read this one when it first came out, whilst I was in Bulgaria. I read it for the first time in a wooden panelled hotel room between sips of rakija (Bulgarian plum brandy), but there was no internet, otherwise I would have tweeted the hell out of this one. Because who could resist such a premise? Told from dual narrative of Noah, desperately trying to start a new life after a horrific trauma for which he feels responsible, and Blaze, a boy from the past, also an outsider, with only his dog for company, this is a sensitively drawn study of guilt, struggle and hope. Noah battles to contain his drawings, but they take over him like an addiction, and the descriptions of him feverishly drawing are truly compelling. Ditto the watery tunnel scenes near the end of the book, which drip with menace.
Atmospheric. Sensitive. Woven with historical detail. I found Rhian's book well constructed and thought-provoking. It also made me want to go and explore the witch-steeped little village of Sible Hedingham.
Like me, Nikki is published by Rock the Boat at Oneworld, so I asked for a proof copy of this one, which is out in May. We also share the same jacket designer - the talented Nathan Burton - and I was keen to read this book, as I love all things ballet.
This is the quirky, imaginative tale of Johnny and the mad and majestic Mrs Cray, who sets about teaching Johnny and the school bullies to release their inner swans.
At first I thought this would be like Billy Elliot, but it is better: funny, sad, strange and magical. Just when you think you have your feet set firmly in reality, it leaps off into a world of freak rainstorms and chest feathers.
Layered between the feathers is a poignant study in bereavement, and I found the scenes where Johnny takes his adorable but troubled little brother, Mojo, to see their father, deeply moving.
Nikki writes beautifully, and I especially liked the descriptions of swans: above him, their feet 'pairs of black triangles, paddling like clockwork toys.'
An original and compelling story of finding your inner strength.