By Olivia Levez
Method acting: a technique of acting in which an actor aspires to complete emotional identification with a part.
Method writing: a technique of writing in which a writer attempts to do the same.
Blame Tom Hanks.
That's all I'm saying.
I was preparing for a long stint writing my first draft of
The Island
. I'd got everything prepared: informed the family I would be going away for a Very Long Time, along with Dog; packed up the car with dog biscuits and leads and laptop and charger and notebooks; filled up with petrol; remembered which friend I'd last lent the caravan to and retrieved the keys.
Then I had a Bright Idea. It was an idea which would see me never looking coconut water in the face for a very long time.
Let me rewind.
I'd got the idea for writing a YA castaway book, one with a girl survivor. Fran, my castaway, wants to be alone. Betrayed by everyone she knows, she considers herself a rock, an island. And then, one day, enroute to an island bootcamp as punishment for a crime she has tried to block out, she gets exactly what she wishes for.
So I'd re-watched Tom Hanks in the excellent film,
Castaway
; watched all of Ed Stafford's clips in
Naked and Marooned
on the Discovery Channel; read
Adrift
, a harrowing true-life tale of a man lost at sea for seventy-six days, and reread
Castaway
, about Lucy Irvine's year on a real desert island with a bloke who would be later played by Oliver Reed in an eighties film version with lots of nudity.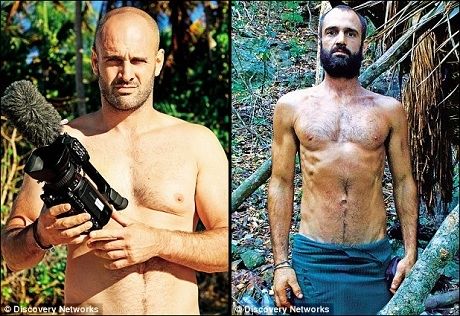 Ed Stafford, before and after his castaway experience
I had lit many beach fires; read travel blogs; trekked for howler monkeys in a Belizean jungle; fished for snapper in Caribbean waters; slept in a cabanna on a tropical beach. I'd even forced myself to get in a plane after spending days researching plane crashes in minute detail, and examining photographs of plane wreckage at sea. Bad timing, but necessary.
I was ready to write.
It was as I hovered outside Tesco, ready to stock up for my writerly stay, when I had my Big Idea.
Why not do as The Hanks does?
Why not go one step further, and…
method write
?
After all, method acting was what Tom Hanks did to prepare for his film role as Chuck Noland. He didn't shave or cut his hair for weeks and lost 55lbs to look and feel like a real castaway.
He took a year to prepare for his role. I had six weeks.
Well, not cutting my hair or shaving was easy enough. Who cares about hairy legs when you're stuck in a caravan anyway? And easy to ignore that long, strange mutant hair that seemed to have sprouted on my chin by simply not looking in the mirror. Kind of a relief to not bother, and also sort of liberating.
It doesn't look much, but this is my Room of One's Own, my writer's hideaway
So this is what I did. I decided to live only off the contents of what I found in my caravan cupboard, left over from renting out to friends, and friends of friends.
I bought only:
A bag of oranges (didn't want to get scurvy, even in the name of Art and Writing)
Five cartons of coconut water (for authenticity – see Tom Hanks again)
Lots of tins of sardines
With some trepidation, I turned the key (thankfully it was the right one) and threw open my caravan curtains, opened windows to air, and then…I opened the cupboard doors.
Inside, I found:
•
Tomato cuppa soup, lots (whoever stayed here last must have been quite a fan)
•
Porridge, thankfully (my brother's an ardent porridge fan and connoisseur)
•
Rice crackers, with a strange deep orange cheesy coating
One of my cupboard 'finds'
OK, so not a great haul. But it would serve its purpose. I, like any true survivor, would learn how it is to forage, and make-do. Sighing, I tipped the contents of a tin of sardines for Dog, shook out my first rice cracker, and began to write…
At first, method-writing was an interesting challenge. There was nothing like the thrill of finding half a packet of crumbling sultanas deep in the recesses of the cupboard on Day 3. Now I could add flavour to my porridge-made-with-water!
As the week went on, I realised that I was really, really bored. And hungry. But I took long walks with Dog every couple of hours, along the beach at low tide, scrambling up over sea-slimed rocks and exploring caves which, in days of old, were used by wreckers and smugglers.
The beach at night, before walking back for our suppertime treat of cheesy rice crackers
We swam, and we lit fires, and we watched the sun slide into the sea like melted butter. And never have I been more lonely. Which was great for my method-writing experiment.
Fran, my island castaway, spends days on the beach, hungry and lonely, with only a dog for company. So did I.
Campfires on the beach, as the sun dies
It was easy, then, to get into Fran's voice. For a week I was her. And, even though I did eventually end up going to the local store for coffee and bread and fruit and salad and cheese and wine, I stayed on at the caravan, and immersed myself in the sea and the cliffs and the beach. Listened as the sea breathed in and out.
And it was worth it.
Because when I finally came home, desperate to talk to human beings, not only did I feel cleansed after my coconut water and sardine diet, on my pen-drive nestled the first draft of a new novel, this time the one that was going to make me finally be able to call myself an author.
Thank you, Tom Hanks.
#TheIsland
My debut YA castaway novel is out on 3rd March, published by Rock the Boat, Oneworld.
You can pre-order it here: